Bai Sushi Japanese Restaurant
37-03 Broadway Ave, Astoria, NY 11103
Order now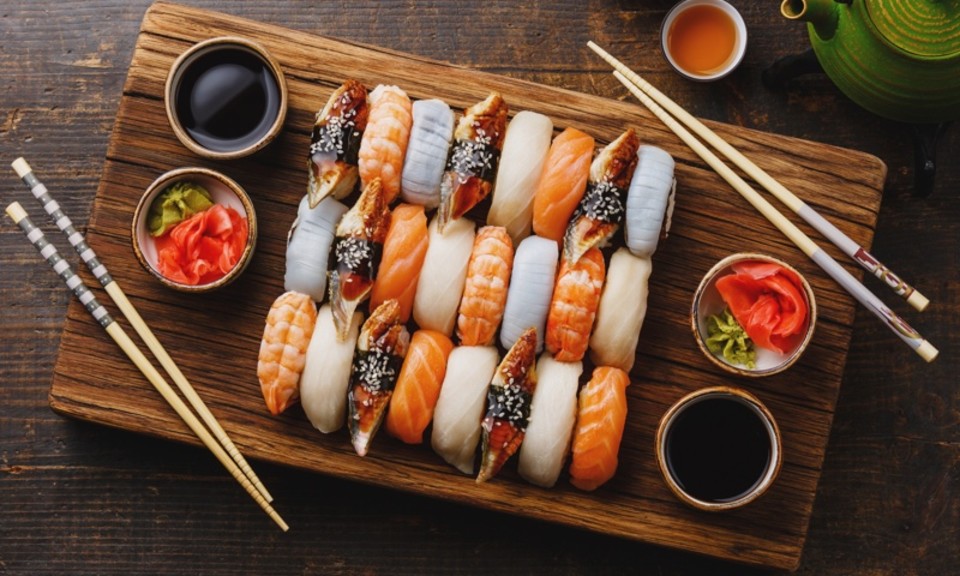 Marcus
Hands down. The B E S T sushi I've ever had in Astoria. When it comes to prepared freshness, tasty ingredients, memorable names of rolls and entree's, and arrival on time in a timely manner? I cannot express them enough.

I ordered from them on my birthday about a month ago, and I still talk them up to my friends to this day. Give them a chance. You won't be disappointed. (and if you are, order some popular items, and just leave the complaining elsewhere) :)
seryung
This is my favorite sushi place in this neighbor. Sashimi was really fresh, I really liked salmon. It is good quality. Bento box itself has very good combination. Their shrimp tempura is homemade and it is very delicious. I am ordering from here already several time. I recommend to try!
minju
After trying out few sushi restaurants around Astoria area, this one become the best one! Their Spicy salmon roll is real! They don't chop salmon or mix with crunch!!!! Sooo good
Amanda
This is the best sushi in Astoria. Plus, delivery is always on time (or early), and their delivery guy is friendly.
Erica
Amazing. Delicious food and friendly delivery staff. Always delivered early and always correct!
Erika
Sushi here is so good! Every roll I've tried has been tasty and fresh, and solidly rolled, and the lunch specials are a pretty good deal. The teriyaki bento box isn't as satisfying as the sushi, but it's still nice, and tons of food for your money. Basically the only thing I don't like is the miso soup, which I find kind of bland. I live down the street, so delivery is super fast for me - like 15-30 minutes if I'm not getting anything hot. And they've never screwed up an order.
Alexandra
This is the best sushi spot I have found in Astoria after 6 years of Living here and trying out all different sushi restaurants. The fish is fresh and the rolls are a great size. Great portions and if you eat in they are so friendly. They once gave me and my table a tuna appetizer to try on the house without asking or saying anything. When we ate in we got tons of sushi and it was so affordable for 3 people. Try everything!
Leann
The sushi here is always great and very reasonable. I like that they only charge $0.50 per roll for brown rice. I also like how they make customizing rolls easy on seamless with options to add things once you choose the roll and the price automatically updates. This is my go-to sushi place in Astoria - I've been eating and ordering from here for years and never had a negative experience.
Kaela
The best sushi in Astoria in my opinion. They are so unbeleiveably nice here too! One time I ordered the wrong roll on accident and I called to see if they could exchange it or I could order a new one and they ended up going out of their way and sending over the roll I wanted anyways free of charge...and it wasnt even their fault it was mine!! Great sushi and service...cannot ask for more.
Edward
I ordered for Pickup last night as I was heading home and the food was ready for me when I arrived. Everything was packaged perfectly and it was Delicious! The rice was perfectly seasoned, and the soft shell crab was awesome (I ordered 2 spider rolls). Their eel sauce topping was amazing as well. I'll definitely be ordering from them on a regular basis.
About us
Asian, Dinner, Japanese, Lunch Specials, Sushi
Today

Delivery: 11:30 AM - 10:30 PM

Takeout: 11:30 AM - 10:30 PM

Delivery

Monday:

11:30 AM - 10:30 PM

Tuesday:

11:30 AM - 10:30 PM

Wednesday:

11:30 AM - 10:30 PM

Thursday:

11:30 AM - 10:30 PM

Friday:

11:30 AM - 10:30 PM

Saturday:

11:30 AM - 10:30 PM

Takeout

Monday:

11:30 AM - 10:30 PM

Tuesday:

11:30 AM - 10:30 PM

Wednesday:

11:30 AM - 10:30 PM

Thursday:

11:30 AM - 10:30 PM

Friday:

11:30 AM - 10:30 PM

Saturday:

11:30 AM - 10:30 PM
Bai Sushi specializes in creative and delicious new-wave sushi and contemporary Japanese specialties, utilizing the freshest local seafood and produce. Our intimate 2-seated restaurant features a sushi bar where you can watch the sushi chef in action. We serve a variety of fresh sushi options including maki rolls, handrolls, sushi, sashimi, and specialty rolls. With creative and imaginative selections like the Titanic and the Bai special Big Roll, our specialty rolls will be sure to surprise and delight your taste buds! In Addition to sushi, we have plenty of delicious cooked options including udon noodles, teriyaki, and katsu. An assortment of import and domestic beers, wine, and sake are also available to complement your meal. Be sure to also stop by for our lunch specials ' the prices are amazing and the sashimi box is a steal! If youre not able to dine-in, we also provide delivery and take-out.